Product Description
Open Source Hardware. Made in Germany.
Your First Choice for Industrial Applications, Research and Education
The Kühling&Kühling HT500 3D Printer is the cost effective solution for reliable high quality rapid prototyping. It is specially designed for heavy duty continuous operation.
This makes the HT500 perfectly suited for on-demand manufacturing of individual parts as well as running small-batch production. With its advanced chamber design, the 3D printer builds dimensionally accurate and strong objects from engineering-grade materials.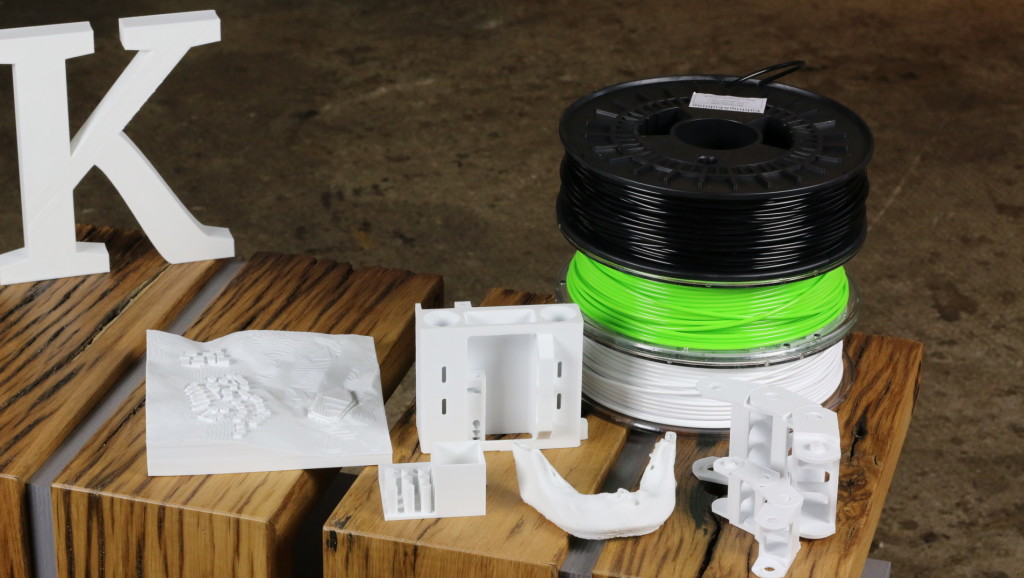 Fused Filament Fabrication (FFF) 3D Printing Technology

The Kühling&Kühling HT500 is extraordinarily optimized for printing engineering-grade thermoplasts:
ABS, HIPS, PET(G), PVA, PLA, TPEs, composites (Wood/Metal etc.), igus Tribo Filaments, Nylon (PA12), PC, PEEK, PVDF and many more

Heated build chamber (up to 70°C)

Heated print bed (up to 130°C)

High temperature print heads (up to 500°C)
Continuous use print surface composite (perfect adhesion during print, easy and tool-free removal of built object)

Soluble Support Material

Two print heads enable dual-nozzle-diameter, dual-color and dual-material setup. Use discrete soluble support material with its second print head or just keep a second model material or color in store for quick changing from one print to the next.
Large Build Volume
Up to 10 liters maximum (200*180*290mm X/Y/Z)
Pro Features
Ethernet-Connectivity & Stand-Alone Operation
No dedicated computer needed, the HT500 features true stand-alone 3D printing. Access the 3D printer's webinterface from your webbrowser via ethernet and upload print jobs conveniently, monitor the machine status and remaining time of a running print job.
Intuitive Touch Screen Controller
All operation tasks are executable with a simple touch on the 10″ capacitive touch panel, e.g. starting a print, running calibration wizards etc.
Quick-Exchange Nozzle Tips
Install different nozzle diameters within seconds. The printer comes with 2 pcs. Ø0.25, 2 pcs. Ø0.35mm, 1 pcs. Ø0.5mm and 1 pcs. Ø0.75mm nozzles – more spare nozzle tips available separately, extraordinarily usefull to get back up and running after a clogged nozzle.
Empty Filament Spool Recognition
Never fear again that running out of filament may ruin that hours lasting print job – the printer will recognize used up filament spools and pause print for reloading automatically! Even when happening mid-night, you'll find your HT500 happily waiting for your assistance in the morning.
Easy and Precise Calibration
The print table has semi-automatic leveling with colored step-by-step-guided, pictured calibration wizard on the touch interface. Both extruder nozzles are precisely adjustable with automatic height alignment functionality to guarantee best dual extruder experience.
Safety Precautions & CE Marking
Activated Carbon Fume Absorbtion for safe and non-smell operation in office environment.
Overheating Protection with safety switches for recirculating air heaters.
CE Marking according to EU requirements for product safety – an essential criteria for our business customers.
All Open Source Technology
Modify any operating parameter you can imagine like speeds, temperatures, resolution; do hardware or software modifications according to your needs if required.
The majority of its mechanical components are designed and optimized for – and even originally made by – Additive Manufacturing. Add our Open Source principles and you are empowered to make most of your spare parts if ever needed with your HT500 3D Printer from strong industrial grade materials like ABS on your very own. Power to you.
Support & Spare Parts
Get in contact with our e-mail support line any time to get assistance along whatever challenge you're facing regarding your HT500. Additionally there's our constantly enhanced Online User's Manual docs.kuehlingkuehling.de featuring in-depth technical background information, maintenance guidelines, general tips&tricks for improving your quality output with tricky 3D models, as well as troubleshooting with step-by-step diagnosis and solutions.
Tools included
Each HT500 3D Printer comes with a full 12-part high quality tool set you may require for any operational and maintenance task you could imagine during daily use.
Specifications
3D printing technology: Fused Filament Fabrication (FFF)
Print Resolution: Minimum layer thickness approx. 0.05mm (resolutions below 0.1mm are dependend on installed nozzle diameter, used print material etc.; some materials of low viscosity may even allow thinner layers)
Filament Diameter: 2.85 +/- 0.1mm
Build Volume: 200x180x290mm (10.44 liter)
Model Materials: ABS, HIPS, PET(G), PVA, PLA, TPEs, composites (Wood/Metal etc.), igus Tribo Filaments, PA12*, PC*, PEEK*, PVDF* (* may be limited to smaller objects)
Support Materials: Soluble support options available for ABS, PET(G), PLA, PLA-/PETG-based composites; Break-away support available for any processed model material
Print Head: Two high temperature print heads (500°C max.) for multi-material, multi-color and multi-nozzle-diameter operation; comes with 4 extruder nozzle tips of 2 different diameters (0.35/0.50); 2 pcs. 0.35mm nozzle pre-installed; more nozzle diameters available separately (0.25/0.75)
Print Head Cleaning System: For best results in dual material prints
Cooling: Watercooled stepper motors, print heads and LED lighting; low maintenance due to closed circuit
User Interface: Integrated 10″ capacitive touch screen controller for stand-alone operation
Network Connection: Ethernet 10/100, RJ45
Automatic Calibration: Via touch interface
Chamber: Actively heated build environment (up to 70°C) for durable ABS prints without warping
Enclosure: Rigid aluminum frame, fully enclosed with clear acrylic glass; built-in LED lighting
Print Bed: Heated (up to 130°C)
Build Surface: Exchangeable maintenance-free continuous use high performance build plates, compatible with ABS, PETG, HIPS, PVA, PLA, TPU, PA12, PEEK without priming/pretreatment/coating; one build plate pre-installed
Activated Carbon Air Filter: Makes printer compatible to office and living enviroments
Software: Free and Open Source slicing software, optimized and tested configuration presets provided
Operating Systems: Windows, Mac OS X, Linux
Power Requirements: 100-240V AC, 50-60Hz, 1000W max., EU or US power socket
Dimensions: approx. 80x60x80cm (LxWxH)
Weight: 49kg
Included in Delivery: 12-part tool set, 2 accessory nozzle tips Ø0.5mm, 1 accessory build plate, 2 spools ABS model material á 750g, 1 power cord
Shipping: Fully assembled and tested with CE conformity